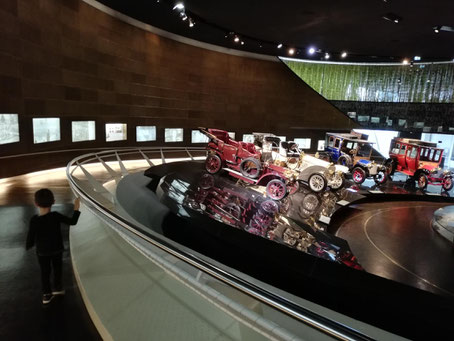 As my husband had to work on Friday, I took Karl to the Mercedes-Benz Museum in Stuttgart.
A futuristic swirl on the cityscape, the Mercedes-Benz Museum takes a chronological spin through the Mercedes empire. Look out for legends such as the 1885 Daimler Riding Car (the world's first petrol-powered vehicle) and the record-breaking Lightning Benz that hit 228km/h at Daytona Beach in 1909.
Gosh - that place is really worth a visit!! I've been in the old museum as a child, but never really felt like visiting the new one.
We were whisked to the top floor to start this historical timeline tour of motorized mobility in the 1880s, with the first vehicles by Gottlieb Daimler and Carl Benz. Other museum levels focus on a particular decade or category of vehicle, such as trucks and buses, race cars, concept cars, and future technology, including fuel cells. Historic photos and other artifacts line the walls of the circular walkway that links the levels. A restaurant on the lower level serves mostly German cuisine with a modern twist, and stays open after the museum has closed, and there's a huge gift shop with all kinds of Mercedes-Benz–branded items. In the adjoining new-car showroom you can muse over appealing models that are sold in Europe but not in North America. Guided tours of the factory are also available.
Dear Stuttgart, dear Mercedes, thank you for such a lovely experience!
Simply stunning, and Karl loved it!